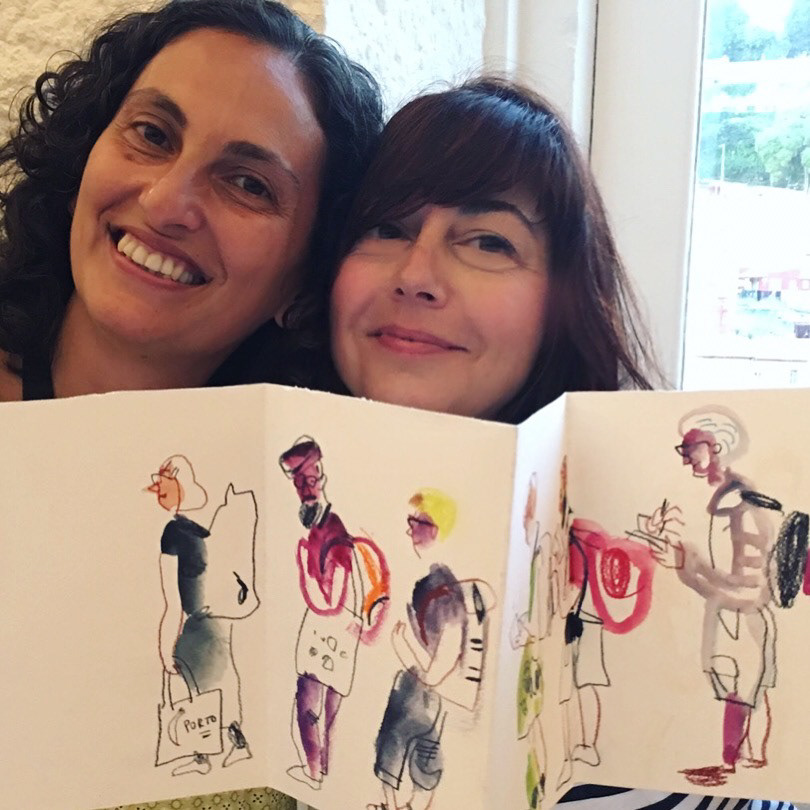 Discover the beauty of 
urban sketching
with two international instructors 
Join them in their unique workshops in Barcelona and Tel Aviv and learn the art of sketching urban life around you. Using a variety of mixed media techniques, Maru and Marina both love, you'll create sketches that explore the people, places, and cultures that make these cities so special.
Whether you're an experienced sketcher or a beginner, you'll benefit from Marina and Maru's expertise, gaining insight into their processes and practices. Don't miss this unique opportunity to experience the cities of Tel Aviv and Barcelona through the eyes of two masterful artists!
FOR ANOTHER PAYMENT METHOD
In e

ach city we are proposing the same format: a 3 day workshop with two instructors, two sessions per day, up to 15 people per class. Every participant will spend an entire day with two teachers, obtaining more one-on-one direction and delving into concepts for the improvement of the person's individual aesthetic. O
n the fourth day, we'll have an open sketchcrawl that local sketchers and workshop attendees can take part in. 
During the sketchcrawl Maru and Marina will lead a zoom workshop for participants from the swap city, that couldn't attend both locations, so they can experience the flavor of the other city. To celebrate the end of the workshops, there will be a Drink & Draw gathering, with a pop-up exhibition of sketches produced during the workshops.
​​​​​​​
BARCELONA

is one of the most vibrant cities in the world, and it is an ideal place for sketching on location. There are a variety of streets, plazas, beaches, and other attractions that provide an array of inspiring scenes for artists to draw. The city has a distinct architecture with its Gothic and Modernist buildings and is home to some of the world's most famous artworks. The city's stunning coastline also provides plenty of inspiration for sketching. With its mix of old and new, Barcelona is an ideal destination to capture the beauty of the city and its people.
TEL-AVIV

is an amazing place to sketch on location. With its Mediterranean climate and vibrant culture, there is no shortage of interesting and unique scenes to draw. The city has a mix of modern and ancient architecture and known for its collection of Bauhaus-style buildings, which have been declared a World Heritage Site by UNESCO. Tel Aviv's beaches are a great place to sketch too, and its colorful markets are full of life and interesting stories. Tel Aviv is also home to a wealth of street art, making it a great place to capture unique and inspiring artwork.
All levels, maximum 30 students 
420 EURO (for each city)


10% discount for the participants who purchase the full SWAP pass (both cities).
Choose either:
* Full SWAP pass
* Barcelona SWAP pass
* Tel Aviv SWAP pass

FOR ANOTHER PAYMENT METHOD
Att
endees need to make their own travel and accommodation arrangements for the duration of the event. 
Meals are not included.

Health Conditions: 
Please note that our Swap is not suitable for people with walking disability.
You need to be able to walk up to 1 km a day. Thank you for your understanding.​​​​​​​
-to allow the participants to experience the longer process of exploring urban life
-to break free from automatic approaches and choices
-to connect to the emotional side of drawing
-to capture emotion, movement and body language
-to get out of your comfort zone and allow yourself to play
-to try out new techniques and materials in a non-traditional way
-to research, experiment and draw for the sake of drawing
-to improvise and combine the accidental with the planned
-to enjoy the process without thinking about the result
Each day our workshops will focus on different subjects: 
DAY 2:

CITYSCAPES/HISTORIC PLACES
Every day participants will learn one subject, morning and afternoon sessions by different instructors. 
In the second Swap we will repeat the program in similar locations of the new city with some variations and adaptations.
That's way participants will experience profound learning of the subjects, which is great way to advance and deepen the learning process - a kind of three-dimensional experience!
Workshops will be taught in English but your instructors will be able to provide explanations and answer questions in Spanish and Catalan (Maru), Russian and Hebrew (Marina).
Don't miss this unique sketching course, you will learn lots of mixed media techniques and new approaches!
Each participant will get essential art supplies for each workshop, provided by our sponsors:
A
list detailing what you should bring to the workshop will be provided for participants. We will be working with water soluble media: ink, watercolors, gouache, pastels, acrylic markers and so on.
Maru is a freelance illustrator and graphic designer based in Barcelona. Formed in IDEP and the School of Fine and Technical Arts La Llotja in Barcelona. She specialised in digital illustration and new narratives and has worked over 20 years as an illustrator and freelance designer for publishers and magazines.
Her specialty is focused on wet techniques such as gouache and watercolor. She likes to experiment with new techniques and get "mixed media effects" in her drawings. She loves to draw the urban environment and landscapes, always recreating scenes and surroundings.
Marina Grechanik  
Marina is a freelance illustrator, graphic designer and art educator based in Ra'anana, Israel, graduated from an art academy in Belorussia. Marina initiated the USk Israel group – regularly leading sketchcrawls, coordinating the Urban Sketchers Tel Aviv blog and organized and curated few group exhibitions.
Sketching is one of Marina's passions. Everywhere she travels, she takes her sketchbook along with her. But the real essence of urban sketching for her is finding stories in everyday routines, and combining sketching with daily tasks like taking care of her children, working, or running errands. "A sketchbook and a simple pen – that is all you need to go on a journey every day. Drawing is seeing, so you just need to open your eyes wider and start to sketch!"
FOR ANOTHER PAYMENT METHOD

Any doubts or questions, send us an email to:
Refund policy 
MG Swap reserves the right to apply an 85 EURO cancellation fee for all refunds. Due to the need to finalize facilities, supplies, and programming, no refunds will be offered after 30 March 2023. 
If MG Swap cancels – you will get the full refund.
Email swapmgusk@gmail.com for refund requests.